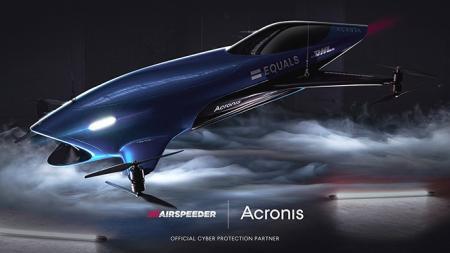 Etisalat hosts the world's first electric flying racing car Airspeeder, partner of Acronis, at GITEX Global
UNITED ARAB EMIRATES, Dubai — Acronis, the world leader in cyber protection, is present again this year at GITEX Global (Hall 1 – Stand 4) and did not come alone. Indeed, Airspeeder, partner of Acronis #CyberFit Sports, is also present. Airspeeder, the world's first series of flying electric racing cars is in the UAE for the first time with its prototype, hosted by Etisalat at Zabeel Hall 1. Etisalat, one of the world's leading telecommunications groups in emerging markets, meets the best in its category innovative sport-derived technology. Etisalat enables the impossible, proving it once again today by being the first to bring Airspeeder to this side of the world.
The Airspeeder electric racing series, created by performance electric flying car maker Alauda, ​​receives cyber protection support from Acronis, with some of the services provided by Acronis #CyberFit Delivery Partner, a global cybersecurity solutions provider, Teknov8. Acronis solutions protect Airspeeder's real-time data, including battery performance analysis and key systems. From this information, engineers define a strategy to find competitive advantage in a sport where every bit of data is critical to performance.
The future is tech – let's race electric flying cars
"Airspeeder creates aerial motorsport driven by innovation. Backed by Acronis which already has technology successes with Formula 1 and Formula E teams, it represents a significant affirmation of the vision to accelerate the next great revolution in mobility through sports competition," said Jack Withinshaw, Commercial Director at Airspeeder. Acronis cyber protection solutions provide data security for breakthrough LiDAR and Machine Vision technology that will deliver tight but safe races through the creation of virtual force fields around each racing vessel, called "Speeders", which will culminate at speeds of up to 130km/h. Airspeeder is the racing series designed by performance electric flying car brand Alauda. Elite pilots from aviation, motorsport and even esports will navigate electrically governed courses above some of the most visually arresting locations in the world.
Etisalat and Acronis will help make the UAE's digital space the best
The Etisalat brand helps drive the digital future to empower societies by building tomorrow's network, today.
Acronis Cyber ​​Protection helps sports teams avoid downtime, data breaches and mitigate security breaches. Airspeeder has partnered with Acronis to ensure that its operations are not compromised and that the terabytes of data shared between speeders and the technical teams that support them will remain fully secure. The partnership is backed by Teknov8, a managed service provider, which helps Acronis deliver cyber protection solutions in the most effective and efficient way.
The need for both effective data protection and cybersecurity has become dominant in everyday life. Businesses rely on the continuous availability and integrity of their data, while individuals around the world send and receive large volumes of sensitive information over remote connections. Cybercriminals, in response, have escalated the scale and complexity of their attacks – and with advances in the automation of these threats, no one is "too small to be targeted". "The last two years have changed the industry landscape for good, any business or user is a potential target," said Peter French, Acronis GM for MEA. "Combining cybersecurity and backup is the only way to truly protect critical data and secure our digital spaces."
-Ends-
About Etisalat
The Etisalat Group is one of the world's leading telecommunications groups in emerging markets. With a consolidated net revenue of AED51.7 billion and a consolidated net profit of AED9.0 billion for 2020, its strong credit ratings reflect the company's strong balance sheet and proven track record at long term.
Based in Abu Dhabi, Etisalat was established more than four decades ago in the United Arab Emirates as the country's premier telecommunications service provider. A world-class organization, Etisalat Group provides innovative solutions and services to 156.1 million subscribers in 16 countries across the Middle East, Asia and Africa.
Etisalat is ranked the strongest brand across all categories in the Middle East and Africa by Brand Finance, and is the world's fastest mobile network by Ookla® Speedtest® in 2021 for the second consecutive year.
About Acronis
Acronis unifies data protection and cybersecurity to deliver integrated, automated cyber protection that solves the security, accessibility, privacy, authenticity, and security (SAPAS) challenges of the modern digital world. With flexible deployment models that meet the demands of service providers and IT professionals, Acronis delivers superior cyber protection for data, applications, and systems with innovative next-generation antivirus, backup, recovery solutions AI-powered disaster recovery and endpoint protection management. With advanced anti-malware powered by cutting-edge blockchain-based artificial intelligence and data authentication technologies, Acronis protects any environment – ​​from cloud to hybrid on-premises – at a low and predictable cost. .
Founded in Singapore in 2003 and incorporated in Switzerland in 2008, Acronis today has more than 1,700 employees at 34 locations in 19 countries. Its solutions are trusted by more than 5.5 million home users and 500,000 businesses, as well as top-tier professional sports teams. Acronis products are available from over 50,000 partners and service providers in over 150 countries and 25 languages.
About Airspeeder
Airspeeder and Alauda Aeronautics are truly global operations. The sport's technical headquarters are in Adelaide, South Australia, in close proximity to the perfect proving grounds for a new form of aerial mobility.
The company's commercial, communications and administrative headquarters are in London, England, and are headed by CCO, Jack Withinshaw. This gives Airspeeder direct proximity to leaders in motorsport, rights management and regulation.
Alauda Aeronautics designs, engineers and builds the racing gear that competes in all Airspeeder racing events.
The Airspeeder EXA series is the first racing series of Airspeeder. This is where remote pilots take control of the world's first full-scale electric flying cars. It will serve as a technical and pilot proving ground for the world's first crewed electric flying car races.
Airspeeder is the next series of crewed racing. It will go around the world in 2022.
AIRSPEEDER | ABOUT THE FOUNDER: MATTHEW PEARSON
Matt Pearson is the founder and visionary behind Alauda and Airspeeder. Together with a team of engineers, designers and business minds spanning Australia, New York and London, it is accelerating the development of electric flying vehicles through the white heat of sports competition.
Beyond his role as a defining voice in the future of mobility, Matt is leading the growing Industrial Internet of Things space through his work at Fleet. From their base in South Australia, millions of devices are powered via low Earth orbit via a growing network of nanosatellites.
PR Contact: Matrix Agency
Krishika Mahesh – krishika@matrixdubai.com
Shirin Zemmo – shirin@matrixdubai.com
Melwyn Abraham – melwyn@matrixdubai.com
© Press release 2021