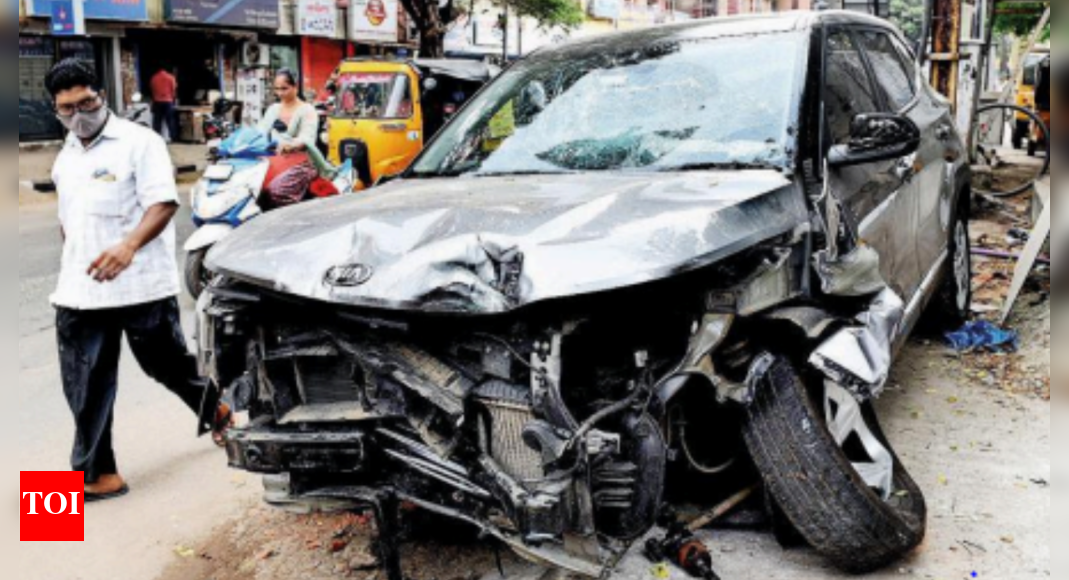 Racing car crashes in Anna Nagar market | Chennai News
CHENNAI: A car crashed into a supermarket in Anna Nagar late Sunday evening, injuring two, one seriously.
CCTV footage of the crash quickly went viral on social media and police, who suspect youths involved in racing were behind the accident, launched a search for the three occupants of the vehicle.
A photo from CCTV camera footage of the accident shows the black car after it crashed into Anna Nagar's supermarket
While one of the injured, identified as Oshima, was admitted to a hospital, the other, an unidentified pedestrian, was treated on an outpatient basis. Police said the crash happened around 11:30 p.m. after the restaurant and market closed for the day. Two cars were racing along Second Avenue when a man driving one lost control and the vehicle slammed into the restaurant, hit an iron pillar outside a junction box EB and crashed into 'Anna Nagar Supermarket'.
As the men inside the car fled, Oshima, who works in the restaurant, and a pedestrian were injured. A team from Thirumangalam Traffic Investigation Wing attended the scene and carried out investigations.
After reviewing CCTV footage, police said the airbags in the sports utility vehicle (SUV) with registration number TN 02 BT 4584 came into operation as soon as the vehicle hit the restaurant and all the occupants were safe.
The preliminary investigation revealed that the car was registered in the name of Saminathan, a resident of Mogappair. An officer said Saminathan's son, Rajesh, 24, and his friends may have been traveling in the SUV at the time. The officer added that it was unclear if Rajesh was behind the wheel or if one of his friends was driving the car. Hari, an inspector from the Thirumangalam road investigation section, summoned Saminathan and his son Rajesh to appear before the police for an investigation. "Rajesh has not yet appeared and further details will not be known until after his questioning," the officer said. As the accident took place late at night, the damage was minimal, the officer added.