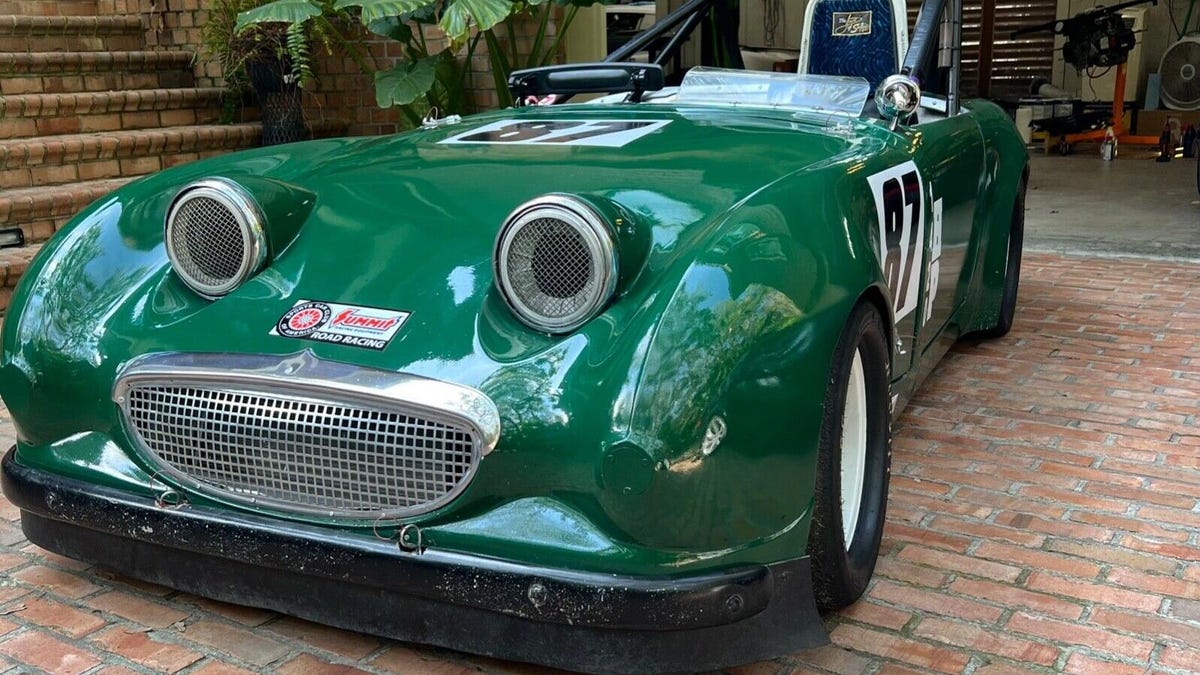 This Austin-Healey Is The Happiest Vintage Race Car You'll Ever Find
This seems like one of those once-in-a-lifetime bargains that you'll regret passing on if you don't pick it up right away. This old-school racer is ready to give you a trail riding experience you just can't get from something modern. And it's only $12,500!
With a top-level race engine weighing in at a whopping 948cc, you know you'll have to squeeze every rev you can, but because the car weighs about as much as a thimble, it can be pushed into the corner and maintain that momentum.
Being a pure racing car, much of the car's original body looks like it's gone, but it's been replaced with a fiberglass facsimile to keep the vintage look. The stock Spridget chassis is still there underneath it all, so you can really feel what it's like to race on those old-school lever-arm shocks and huge Hoosier slicks. Boy, what a dream this thing must be.
When I saw this listing, I had a quick chat with a friend who races this car's sibling, the MG Midget on the West Coast. He was quick to comment that it looks like a great car and the engine alone is a $15-20,000 outlay to build from scratch! He also mentioned that it would take someone who really knows these machines to set them up properly and keep them happy on track. It's not the kind of racer you get into as an amateur. That said, I'm two or three glasses away from thinking I'm the right guy for this car. It's such a deal!
I recognize what I just said, and I understand that this is becoming more and more of a weird race car with each passing day, but I can't help but think what kind of fun this monster would be. Better yet, what if you stuck some lights and signals on it and took it for a ride on your favorite road a few times a year? Tell me that doesn't sound convincing.
If this bugeye seems like your cup of tea, check it out. some pictures and additional information on eBay.
Here's what the seller had to say about it in the listing:
'59 Bugeye with a long racing history with current annual technology SCCA logs dating back to 1979. The car has been run off coast to coast. I bought it a few months ago with the intention of keeping it, but with three other race cars I don't have the time, energy or storage space to keep it. I haven't raced it but I've ridden it on track and it runs and handles great. , Tilton dual-disc clutch, Tilton pedals, aluminum radiator, 4-wheel disc brakes, new ATL fuel cell, one-piece fiberglass front end, 2 sets of Minilite wheels, 1 set of BBS "style" English wheels, aluminum racing seat, ESS fire system. Spares: Complete 948 engine, complete, 93 octane, 1 transmission, 6 spare differentials (various ratios and condition), complete rear axle with rear drum brakes, 6 boxes of spares including starters, clutch, brake discs, distributors, crankshafts, camshafts, SU carburetor parts and other miscellaneous items. Many of the spare parts needed to convert to vintage racing. The car passed the SCCA Annual Tech on 02/25/2022.
Disclaimer!
Verve Times is an automatic aggregator of all media in the world. In each content, the hyperlink to the main source is specified. All trademarks belong to their rightful owners, all materials to their authors. If you are the content owner and do not want us to publish your materials, please contact us by email –
[email protected]
. Content will be deleted within 24 hours.